What is Dark and Hidden, but Plain to See?
by Lena Nilsson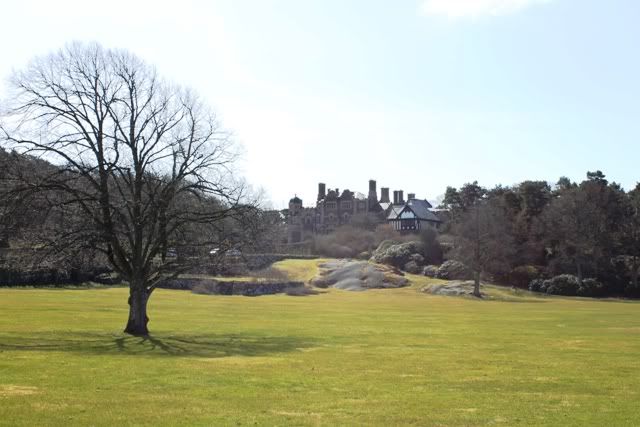 a truly weird descent into the depths of the Icke-ian nightmare courtesy of this very observant lady in Sweden :
Tjolöholm Slott or Castle is situated on the west coast, south of the second largest city of Göteborg, or Gothenburg, in

Sweden

.

The castle was to be built by James Fredrik Dickson and his wife Blanche Dickson, also his cousin. Old and important blood lines seem to marry within families to keep wealth and power intact. Mr Dickson's mother and father were apparently cousins too.

The Dickson family is of old Scottish lineage and were originally called Chatti, which later developed into Keith before ending up with the chosen name of Dickson.

You can read more about the Dickson family on

www.swedickson.nu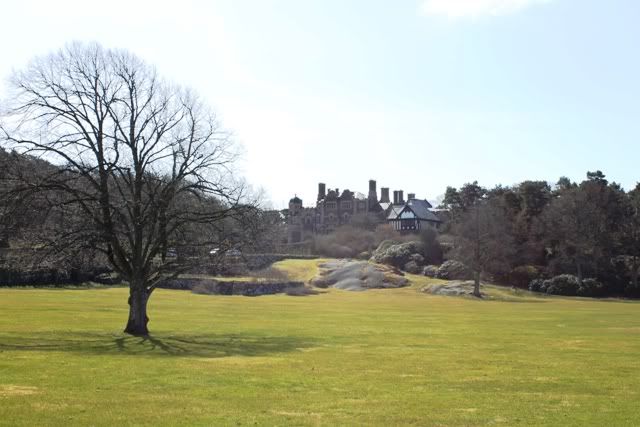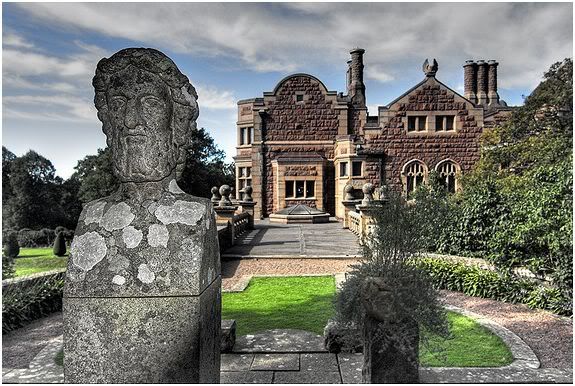 On the landing were carved wooden figurines along a balustrade. They were quite tall, maybe around one meter high. The guide explained they were carvings of "mysterious beings".

Related from the book: "The main staircase is flanked by two wooden sculptures, Age and Gravity personified by an old man and a bird with a huge beak. Up on the landing rail sits a row of fabulous animals, including Reynard the Fox and the Billygoat Gruff."

Okay, so they're thought of as "fabulous" and totally innocent figures, but I see something different. Is this supposed to be an old man? Why does he have

reptilian feet

? Is it a man of a reptilian bloodline?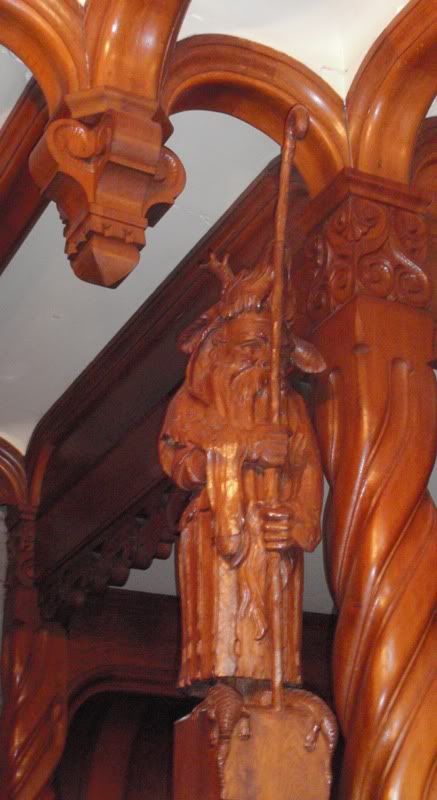 Another doubtful figure was an upright lizard. After having read David Icke's book, The Lion Sleeps No More, the lizard figure was disturbing when I had the contents of his book in my mind. And if you're familiar with the work of Jordan Maxwell and Michael Tsarion you may also know what I'm talking about here.

Why a lizard? And why is he standing up to look almost human?

Then you could imagine "Baphomet" or "Goat Mendez" behind the lizard man.
At the other end of the landing, slightly apart from the other figures, and a bit higher up, as if keeping an eye over the area below, was a wooden carving of a big owl. Could it be Moloch himself?
What's that hiding in the woodwork? Another type of Baphomet or Goat Mendez?
could be Lena...could be. Quite possibly with a rather distinctive upright phallus pointing upwards towards the chin as if intent upon some devilish act of infernal oral copulation...
When I saw this huge stone plaque on the wall, I found it more than strange. The family motto: COELUM VERSUS translates in the book (which I read) as TOWARDS HEAVEN.

If you click on

this link with Latin translations

, the meaning may be varied.

coelum may mean: sky, heaven, heavens; space; air, climate, weather; universe, world; Jehovah

versus may mean: toward , in the direction of; in specified direction; towards quarter named --- but it seems it could also mean: turn, turn around; change , alter; overthrow, destroy...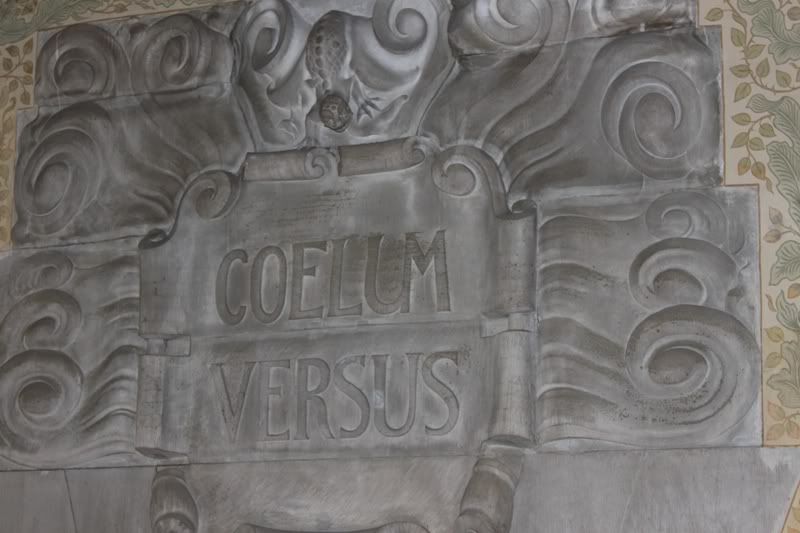 At the top of the plaque, a salamander (according to the book) looks down. Why on earth a salamander? A salamander is a lizard like amphibian. If zooming in, the head and the eyes look more like some kind of reptilian alien. Why would there be a reptilian/amphibian on the family plaque?
I forgot which room this was, but maybe it was a study with a fireplace and wooden carvings on each side. I think of them as Baphomet and Horus - the same kind of wood carvings as on the landing. The family shield - The Dickson Shield - is in the middle with a heart and two wings - one on each side of the heart. Is that a Kneph? It also reminds me of Egyptian symbols such as Horus and/or a Winged Disk.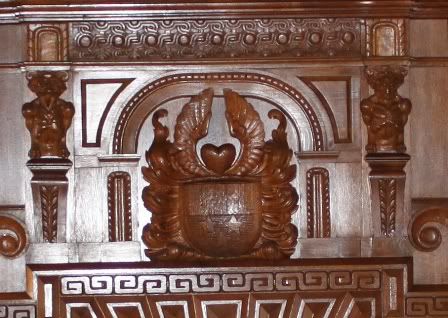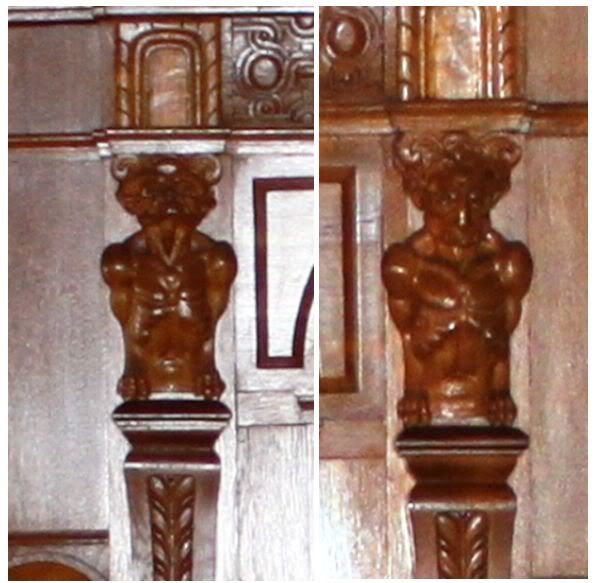 There were more symbols around. Some were as follows:

Sun Cross, Odin's Cross in North-West Europe, also known as Gnostic Cross

Abraxas, a shape like an Abraxas

Fleur-de-lis - a few of them (not only benevolent, but also has a sinister meaning)

Owls in many places

Solomon's Knot & Love Heart - may represent love or immortality and eternity

Royal Rampant Lion - Royal Heraldry - commonly used by a variety of countries

Three Crowns - Swedish Royal Heraldry

Are my thoughts just creative thinking, or is there more to this castle than meets the eye?