It's gotten so bad that I am currently wondering if this Malala Yousufzai story is real, or manufactured.
How do we know?
It sure is convenient. And sickeningly hypocritical, how she just as likely could have been literally blown to pieces by an American drone strike, and nobody would have given a SHIT.
There sure seem to be plenty of nicely shot photos of her, back before she allegedly got shot, taken by big mainstream media companies. Like this one: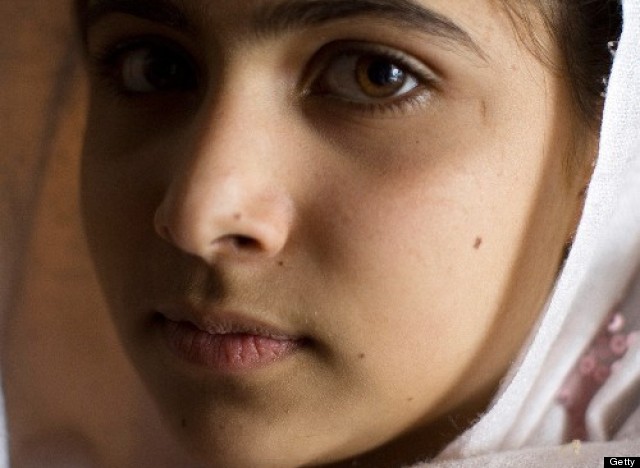 Why is that?
She was writing her blog for the BBC. Why was that? Whose idea was that? Who approached her to do that?
Why, when she was supposed to be cloaked in anonomity for her own protection, were photos like this taken as well?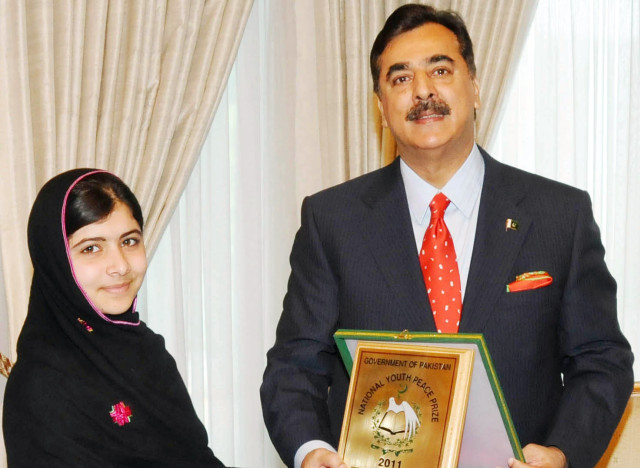 Why are the words in that plaque written in English?
The timing is rather suspicious, during an election year, when there is a fairly high amount of alternative press devoted to the CIA's drone strikes, which often slaughter girls just like her.
But no, we're saving these wonderful people from the evil Taliban, right?
Right. A month before the election.
Okay.
How do we know this whole thing isn't fake? I mean, she might be real, and even her injuries might be real (and then again maybe not for all we know!) but the whole thing reeks of being staged.
Anybody else felt this way?
It just reminds me a HELL OF A LOT of those documentaries that were coming out of Afghanistan right before we invaded, showing women being executed in the soccer stadium. Remember that? Sorta came and went, didn't it? Came out when it was convenient to come out, then vanished. And whatever happened to that attractive woman who was making that doc? She got a lot of press time then, haven't heard from her since.
Reminds me so much of that.
Anybody remember the name of that doc? "Behind the veil" or something, right?
Whoa! Looking that up, it was also the BBC. And the woman I'm remembering is named Saira Shah. And it was in the summer of 2001 that it came out! Before 9/11! How .... convenient again!
http://news.bbc.co.uk/2/hi/south_asia/1410061.stm
This girl saw her mother shot by Taleban soldiers

Executions

The crew also acquired secretly-filmed footage of a public execution in a football stadium financed by the West.

The footage shows a veiled woman dragged to the centre of the pitch, and forced to kneel facing the goal posts.

She is shot dead to the cheers of the watching crowds.

The team then ventured to the north-west corner of the country, which is still in the hands of the opposition.

Earlier in the year, the Taleban briefly took control of four villages.

The survivors told stories of how dozens of civilians were rounded up and executed.

Footage obtained from a local wedding photographer showed the villagers burying their dead.

Three girls sitting huddled in brightly coloured veils outside one house described how they saw their mother being shot dead.

Their father said they have not stopped crying for weeks.
Then came the nailing of kittens to the mosque doors .....
Saira Shah also made another film for the BBC, which seems to be an anti-Palestinian bit of propaganda (although I haven't seen it, so I can't say for sure, but I'm going from this description below, from wikipedia), called "Death in Gaza":
Children

The film follows the children in different aspects of their lives including life in the vicinity of military forces and games born out of the conflict – such as running towards, throwing rocks and homemade explosives, quwas, at armored vehicles; Study materials in schools which focus on Palestinian perceptions of the conflict, as well as time spent with family and friends, including following one of the children as he plays with and helps militant fighters. The film also makes note of the political use of public mourning for conflict enhancement.

[edit]Martyrdom
For a short while the film concentrates on martyrdom and the opinions of the people there about dying for Palestine and Islam. It briefly tells the story of a young boy who was shot while attacking Israeli forces much like the main boys Ahmed and Mohammed, as well as numerous other unnamed boys. The film follows the boy from being brought into the medical center and the initial treatment, to his death and public reaction, to the parade and his burial, and celebration at his success in becoming a martyr.
[edit]